There's something funny about retirement for a Sports Arbitrage Trader or a Professional Handicapper.
Sure, you can get retired anytime you want. Nobody is forcing you to work 'til 60.
When you accumulated a satisfactory wealth, you can get retired anytime..
But here comes the vital question!
What you will do when you get retired?
If you won't do any arbing or betting activity..what else you will do?
Don't know 'bout you but I'm sure I would get bored. Sure, I can play guitar or form a band of grandpapas. I can join local karaoke contests and put the stage on fire! Can go vacation with my family. I can watch my favourite 80's cartoons all day! Would be fun (and extremely nostalgic!) to re-play my favourite old C-64 and Amiga games too. Going to Vegas with friends and playing golf with Holywood celebrities..but then?
You will get bored anyway..
Be it trading or betting; It's not a hobby or a part time job for us. It's a part of your life. Arbitrage and Betting are a part of my life. I can't imagine a life without these..but how long? Forever?
When I was a straight bettor, I always said I must get retired before 60 or I may die cause of heart attack, lol. Not kidding about it, sports betting can be very stresful (and frustrating) sometimes. You know, some people bet for fun, joy and excitement, I can't really understand these people. Where's the joy when your team is leading by 2 points and Kobe jumps for a 3-pointer and clock is 00:02! Where's the joy when you have Over 3,5 and half time ends with a dull 0-0 score. Where's the joy when opponent team is rewarded with a penalty kick on 90+3? Even if you win in the end, what about the pain you felt while watching?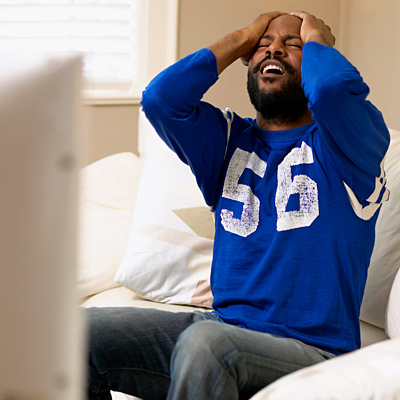 Watching a sport event which you have a wager on, can be very stresful, painful sometimes..even if you win in the end. So my mentality in sports betting is simple. Don't watch an event if you have a wager on it, lol.
Watching a sport event should not give any hint or tips since all your bets, selections should be based on a mathematical model/system. I don't believe in betting with gutfeeling.
I don't say it's an universal truth; this is just my opinion. This is my way, this is just what worked for me. Feel free to agree or disagree, no problem. If you're betting, you must bet like a robot. There's no room for emotions in sports betting.  You should not feel too bad after a loss and you should not feel too good after a win. You must adjust your stake according to this mentality. If you bet what you can afford to lose, you won't feel so bad even after a bad losing streak.
Personally, I don't feel too much excitement when watching  a sport event, be it bad or good. I never worry/cry after losing a bet or never jump like crazy, get violent after a win. (Yeah, even I'm an arber, still time to time, I place some straight wagers too but not very often)
But arbitrage is a more calm job then straight betting. There is no losing streaks and there isn't unpleasent 90+3 own goals, lol.
Sure, arbitrage trading has some risks too. There's some stress involved, yes (account suspend, slow payments etc) but its stress level cannot be compared with sports betting.
Anyway, I'm not writing this article to compare arbitrage and sports betting, let's get to the point: Retirement!
Let's Get To The Point: The Retirement
Just like every profession in life, your arbitrage career may have an end too..One day, you will get limited in all books. Maybe you will sign-up for your friends and relatives in order to open new accounts but these people are not infinite either..
Your income will decrease one day. Do you ever think what you will do that day?
Sure, we got books which don't limit you such as Pinnacle Sports, Sbobet, IBC, Betfair but how often you find an arb between these books? %99 of all time, you find an arb between these and a softbook. You need softbooks in order to make satisfactory profit.
Unfortunately, softbooks don't like arbers so your time is limited with them.
So let's have a look to alternatives..You can switch back to sports betting or trading..it's up to you. You have many alternatives. If you had worked several years as a Sports Arbitrage Trader, then you must have made some accumulation, some savings! You can start/run your own business with that money. Open a cafe or a restaurant, buy some land! Buy/Sell Real Estate. Options are endless..
Being A Sports Betting Arbitrage Trader is like being a pirate. Believe me, there's no difference. Being a Pirate was a good occupation in 16th century. They sinked, boarded ships and plundered towns, cities; making a fortune in their short career..
Why short career? Two reasons, it wasn't an occoupation that you can do in older ages (You can't swing your sword like you do in young ages when you're 40 years old) and it wasn't an occupation you can legally retire. Even Legal Pirates, working for a country (With Letter of Marque), never had (or dreamed) a long career. Governors come, governors go. Future was always very uncertain..
]
But it was worth of it. An average person would work 100 years, maybe 500 years in order to make so much wealth. A Wise Pirate would go for some expeditions; raid enemy towns, plunder enemy ships for some years, then divide up the plunder and would get retired after he made a satisfactory wealth and enjoy a peaceful, calm life with his parrot!
You can do the same too.
Just like a pirate, arbers can't legally retire either. William Hill or Pinnacle Sports won't give you retirement fund when you turned out 60 years old. You're on your own. You must have a retirement plan.
You must accumulate enough wealth in order to deserve/enjoy retirement in older ages. Even if it was possible to arb for your whole life, still you must stop after a point. Where you will take all this money? Remember, The coffin has no pocket!
So, my advice is..Have a retirement plan. And most important of all, make savings. Save money, it adds up!
Saving money may be hard for average people but it shouldn't be so hard for you since your case is totally different. You're saving automatically. Do you withdraw all your profits? Do you spend all money you make by arbing? Of course, not. You just spend/withdraw money you need. Rest? It accumulates! You're saving money automatic!
Who knows? Maybe you won't be able to arb after 2 or 3 years..I hope you can make a satisfactory wealth 'til that day. I wish you all beautiful (and profitable!) years in arbing.
Happy arbing!